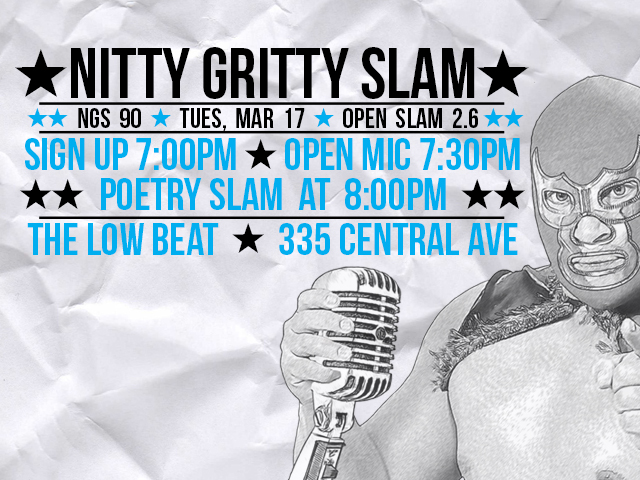 Poetry and spoken word are going to be heating up The Low Beat on Tuesday, March 17 with the 90th Nitty Gritty Slam.
The second half of the season is in full swing and we are getting closer to finding out who will be representing Albany and Nitty Gritty Slam at the National Poetry Slam in Oakland this summer. We have some awesome poets step on the stage and get on the leaderboard in the past few weeks. Eliza Ryan from Pittsfield is currently in 1st place with Daniel Summerhill and Nitty Gritty coach Algorhythm right behind.
Who will be joining Kevin Peterson, Amani, Samson Dikeman, and Elizag in the Grand Slam? Will any new voices wow the judges and make it to the next round?
It is never too early to start thinking about how you can help Team Nitty Gritty get to Oakland. If you would like to donate to the team to help cover travel costs, please click "Donate" on the top of the page. We will have more information on fund raising events and more ways to get involved in the coming weeks.
If you're not into competing in the slam, but want to get on stage and share your work, we have an open mic hosted by Kevin Peterson before the slam. Sign up begins at 7:00pm, open mic starts at 7:30, and then Thom Francis starts the slam at 8:00pm. Admission is $5.00 ($3.00 with student ID). This is an 18+ show.
If you can't make it out to the show that night, be sure to follow along on Twitter – #NGS90.
Albany Poets, Urban Guerilla Theatre, and The Frequency North Reading Series have brought slam back to Albany with the Nitty Gritty Slam at The Low Beat (335 Central Ave.) on the 1st and 3rd Tuesday's of each month.
For information on the rules and format of the Nitty Gritty Slam and to meet the team, go to http://nittygrittyslam.com