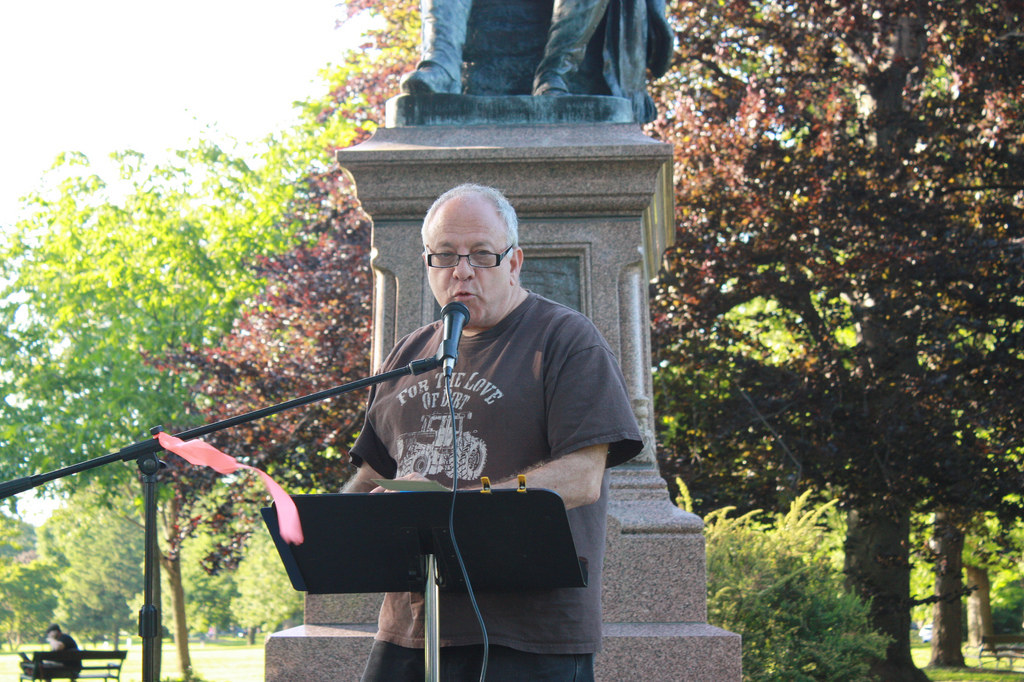 Poets in the Park is celebrating over 20 years of bringing poetry in July to the Robert Burns statue in Washington Park, Albany, NY. The series was started in 1989 by the late Tom Nattell and is now run by Albany poet & photographer Dan Wilcox. This year the readings will be on Saturdays July 12, 19 & 26; the readings start at 7:00 PM & are free & open to the public; donations are accepted. The series is co-sponsored by the Hudson Valley Writers Guild; for more information about the Guild visit the website www.hvwg.org.
The 2014 readers are:
July 12: Nancy Klepsch & Luis "L-Majesty" Pabon
July 19: Melody Davis & Brian Dorn with fire-dancer
July 26: Geraldine Green & George Wallace
Nancy Klepsch has been published in Barzakh, Oberon, Chronogram, 13th Moon, Poetry, Salvage and 200 Proof among others and is also the co-host of the 2nd Sunday @ 2 at the Arts Center in Troy with Dan Wilcox
Luis "L-Majesty" Pabon is a singer, song-writer, artist and poet who originally hails from Bronx, NY. Luis currently lives in Albany, NY where he regularly performs at various venues throughout the Capital District. Luis has just completed his first book of poems entitled Tendencies which will be released later this year.
Melody Davis is the author of three books, most recently, Holding the Curve, poems from Broadstone Books. She has held fellowships for writing from the National Endowment for the Arts, the Pennsylvania Council of the Arts, and the Henry Luce Foundation/ACLS. She teaches art history at the Sage College of Albany.
Brian Dorn is the author of two popular poetry compilations, From My Poems To Yours, and The Live Versions. In addition to his printed material, Brian is currently focused on developing a stage production modeled after his poem of the same name ("We All"). Much like his stage production, Dorn will be accompanied by a fire dancer (flow artist) during his "Poets In The Park" performance.
UK poet Geraldine Green is a freelance creative writing tutor and mentor and associate editor of Poetry Bay. She is writer-in-residence at Swarthmoor Hall Ulverston, home of Quakerism. You can read more about her on Geraldine Green Salt Road
George Wallace is writer-in-residence at the Walt Whitman Birthplace, author of 29 chapbooks of poetry and first poet laureate of Suffolk County, LI NY. A regular on the NYC poetry scene, he teaches writing at Pace University and Westchester Community College.
The Robert Burns statue is located near where Henry Johnson Blvd. passes through Washington Park and crosses Hudson Ave. Please bring your own chairs or blankets to sit on. Rain site for each event is the Social Justice Center, 33 Central Ave., Albany.
For more information contact Dan Wilcox, at dwlcx@earthlink.net; 518-482-0262.