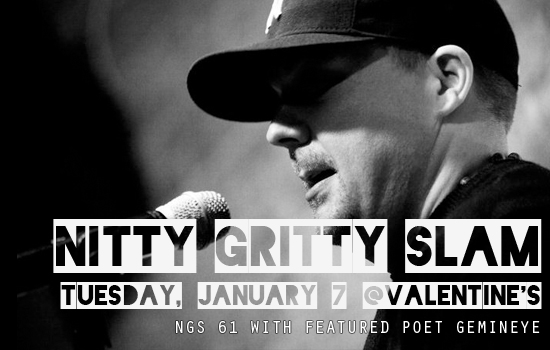 After digging out from the snow that forced us to cancel NGS #60, we will return to Valentine's on Tuesday, January 7 and we are kicking off 2014 with a bang!  At Nitty Gritty Slam #61 we are very happy to have featured performer Def Poet Gemineye take the stage.
Gemineye has taken the poetry world by storm! Born June 11, 1976 in Washington State, he would later settle in Mount Vernon, NY. "Money earning Mt. Vernon", as it was known, was home to known rap artists such as Heavy D, Pete Rock and C.L. Smooth; as well as actors and celebrities including Academy Award Winner actor Denzel Washington, Dick Clark, Debbie Allen, Phylicia Rashad, and a list of others. Gemineye pursued college studies at the University at Albany, SUNY- where he received both a Bachelors and Masters degree. In his spare time, Gemineye worked endlessly towards developing his art. In June of 2001, his transition to Montclair State University in New Jersey would prove to be one of the greatest opportunities presented at the time. Employed as an Administrator within the office of Residence Life, Gemineye began to associate with various staff members, some of whom enjoyed attending diversified poetry readings throughout the Tri-state area. Gemineye made his way into the poetry scene August of 2001 at Newark, New Jerseys Euphoria Café, which was hosted by HBO Def Poetry Jams Flowmentalz. Becoming a crowd favorite in nearly every venue he entered, Gemineye sought to hone his skills through poetry competitions. A 2002 finalist at the world renowned Nuyorican Poets Café in New York, a 2002 finalist at Serengeti Plains in New Jersey- he would soon hold the title of Grand Slam Champion in New Jersey and become a member of the 2002 New Jersey National Slam Team. Gemineye would reaffirm his position atop the Slam circuit in New Jersey with a repeat performance earning him a second year as the Grand Slam Champion for 2003 and earning him another spot on the 2003 New Jersey National Slam Team.
https://www.youtube.com/watch?v=aeie9864oeE
He has performed throughout the nation for audiences ranging from college students, high school students, and celebrities such as P.Diddy, Russell Simmons, Ludacris, Tweet, Tommy Hilfiger and others during this years First Annual Hip Hop Summit Action Network Awards hosted by Russell Simmons, Ben Chavis, and Naomi Campbell. Gemineye has published material, both books, and compact discs. Since his start, Gemineye has worked diligently to use this art form as an avenue to express personal feelings about todays issues, tales of truth pertaining to life, love, erotica, urban events and various aspects of living many people can relate with. You can catch Gemineyes most recent television appearance on the third, fourth, and fifth seasons of HBOs Russell Simmons presents Def Poetry. As an educator and member of the NJ S.L.A.M. Team (Supporting, Leading, Advocating, And Mentoring) Gemineye has reached the minds and hearts of generations both young and old. He released the debut CD Eye've Arrived in 2003, produced by New Jersey's world famous DJ Dough Boy.
This will be one of the last shows at Valentine's before the move to the new location on Central Ave. in January, so you are not going to want to miss it out on an historic evening as we will be looking back at all of the great times and awesome poetry that we have shared at the venue.
The second half of the season is off to a great start after the Dead Poet Slam which saw a surprising win from Avery, placing him on top of the leader board as we head towards our second Semi-Final. Who will step up, show off their feats of strength and wrestle the first place spot away from Avery?
Albany Poets, Urban Guerilla Theatre, and The Frequency North Reading Series have brought slam back to Albany with the Nitty Gritty Slam.
NGS takes place at Valentine's (17 New Scotland Ave.) on the 1st and 3rd Tuesday's of each month.
If you're not into slam, but want to get on stage and share your work, we have an open mic before the slam.
Sign up begins at 7:00pm, open mic starts at 7:30, and then Thom Francis starts the slam at 8:00pm.
Admission is $5.00 ($3.00 with student ID). This is an 18+ show.
For information on the rules and format of the Nitty Gritty Slam and to meet the team, go to http://nittygrittyslam.com/.