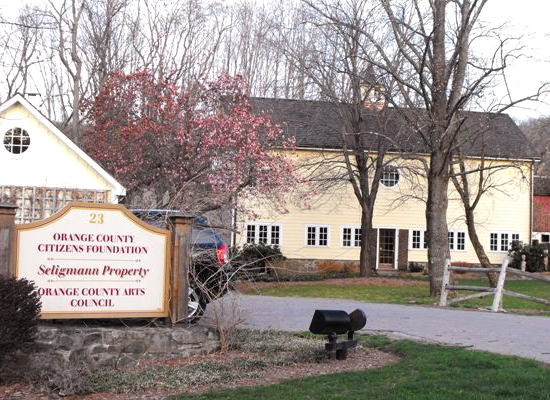 Two big events taking place on Saturday, November 2 at the Seligmann Studio (23 White Oak Drive, Sugar Loaf, NY). From 1:00 -3:00 pm The Northeast Poetry Center's College of Poetry will present a poetry workshop to be conducted by Teresa Costa on the theme of jazz and poetry where she plans on discussing Langston Hughes, Ray Bremser, Gil Scott-Heron, Mina Loy, Sonia Sanchez, Kenneth Rexroth, and Stephen Tropp.
Costa has been writing poetry quite steadily since 1973, after being turned on to Captain Beefhart and Alice Cooper ( a somewhat strange combo).  I have been featured extensively through-out the Hudson Valley, and have read in NYC,Venice, California and Albany, NY.
She was poetry director and host of the Cross St. Gallery for three and a half years, until the roof caved in.  Currently she hosts poetry readings at The Bohemian Book Bin in Kingston, NY. Recently published in; Home Planet News and The Chronogram.  Teresa is listed in The American Poets & Writers Directory. She has self-published three chapbooks: Cosmic Orgasms, What We Breathe out and Bon` Appetite (purposely misspelled to tick off the immature academic poets…it's a joke) and has featured with the late George Montgomery, the late Ray Bremser, back in the mid to late seventies.
Her workshop will be followed by Poetry on the Loose at 3:30pm featuring John J. Trause.
Trause, said to be the secret love child of Henri Langlois and Mary Meerson (Or is it Marie Menken and Willard Maas?), is the Director of Oradell Public Library and the author of Eye Candy for Andy (13 Most Beautiful… Poems for Andy Warhol's Screen Tests) from Finishing Line Press; Inside Out, Upside Down, and Round and Round; the chapbook Seriously Serial now in its second edition from Poets Wear Prada; and Latter-Day Litany, the latter staged Off-Off Broadway.  His translations, poetry, and visual work appear internationally in many journals and anthologies, including the artists' periodical Crossings, the Dada journal Maintenant, the journal Offerta Speciale, the Uphook Press anthologies Hell Strung and Crooked and –gape-seed-, and the Great Weather for Media anthology It's Animal but Merciful.  He has shared the stage with Steven Van Zandt, Anne Waldman, Karen Finley, and Jerome Rothenberg, the page with Lita Hornick, William Carlos Williams, Woody Allen, Ted Kooser, and Pope John Paul II, and the cage with the Cumaean Sibyl, Ezra Pound, Hannibal Lector, Andrei Chikatilo, and George "The Animal" Steele.  He is a founder of the William Carlos Williams Poetry Cooperative in Rutherford, N. J., and the former host and curator of its monthly reading series.  He has been nominated for the Pushcart Prize (2009 – 2011).  For the sake of art Mr. Trause hung naked for one whole month in the summer of 2007 on the Art Wall of the Bowery Poetry Club.
An open reading will follow the featured poet.  Admission is free to all.
For more information on the workshop and reading series contact William Seaton at seaton@frontiernet.net
[AMAZONPRODUCTS asin="1622292952″]
[location post_id="10741″]
#_LOCATIONMAP
#_LOCATIONNAME
#_LOCATIONADDRESS
#_LOCATIONTOWN, #_LOCATIONSTATE #_LOCATIONPOSTCODE


[/location]