Three great poets and spoken word artists are coming to the North Country on November 21 at 7:00PM for a special free performance at Paul Smith's College's Freer Auditorium. Danez Smith, Adam Falkner, and Mahogany Browne will take the stage for an evening of "strong strokes of music, theater, and beautiful writing" in conjunction with the Adirondack Center of Writing.
Danez Smith is a proud Cave Canem Fellow, 2-time Pushcart Nominee, Best New Poets Nominee. He's from St. Paul, MN  And placed 6th in the world at the 2011 Individual World Poetry Slam & is the 2013 Rustbelt Midwest Regional Slam Champion.
He is the author of 'hands on ya knees', a chapbook published by Penmanship Books. His full-length collection, '[insert] Boy', will be published in 2014 by Yes Yes Books.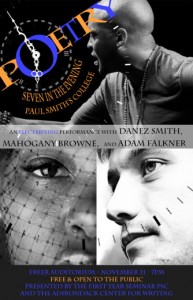 Adam Falkner is a New York City-based poet, performer, essayist, full-time public high school teacher and educational consultant. Published in a number of anthologies and journals, Adam's work has also been incorporated into coursepacks for use curricula in post-secondary education and has been featured on HBO, BET, Michigan and New York Public Radio and in Time Out New York.
In addition to having performed at over 100 colleges and universities throughout the United States, Adam also leads professional development workshops for faculty and staff at institutions for higher education about how to incorporate performance art, creative writing and intergroup dialogue into the teaching and training processes. He currently teaches 11th grade English/Creative Writing at the Academy for Young Writers in Brooklyn.
Mahogany L. Browne is the Editor of the women's anthology His Rib: Stories, Poems & Essays by HER and author of several books including her latest book of poems: Swag. She has released five LPs including the live album Sheroshima. As co-founder of the Off Broadway poetry production, Jam On It, and co-producer of NYC's 1st Performance Poetry Festival: SoundBites Poetry Festival, Mahogany bridges the gap between lyrical poets and literary emcee. Her freelance journalism can be found in magazines Uptown, KING, XXL, The Source, Canada's The Word and UK's MOBO.
She facilitates performance poetry and writing workshops throughout the country, focusing on women empowerment and youth mentoring. She is the publisher of Penmanship Books, a small press for performance artists and owns PoetCD.Com, an on-line marketing and distribution company for poets. Mahogany is currently the slam host & curator of the Friday Night Slam Series at the Nuyorican Poets Cafe.
For more information on this event and all of the great things that the Adirondack Center for Writing is doing, go to their website or call 518-354-1261.