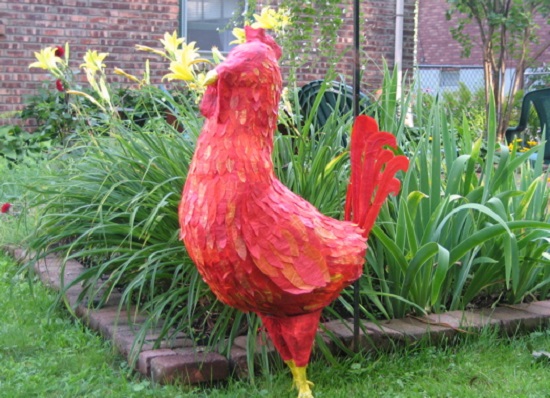 Tonight the pinata queen of Albany, A.C. Everson, is bringing new handmade art to Pine Hollow's Open Mic Series and she is going to break it at the Pine Hollow Arboretum (16 Maple Ave. Slingerlands, N.Y.) starting at 6:30 PM.
The work is titled "IN THE GARDEN OF MA (A WORK IN FOUR SEASONS)" and she will be accompanied on cello by Joan Reilly. A.C. has made new pinatas, written new poetry and is set to stage this extraordinary event on a Friday the 13th.
I think it's kinda neat to have something that's sole purpose is to be broken. There is no guilt, no karma hits or anything. You are meant to break that thing. In fact, I kind of had the opposite problem. Sometimes people like them so much they don't want to break them. It's a piñata. It's supposed to be broken! They don't last forever.
                 -A.C. Everson
The Open Mic for writers and poets will be offered as usual. Our theme will be "puppets". Poets can read three short poems or two longer poems or two pages of prose will be acceptable. There will be light refreshments offered. Donations welcomed.
Contact Alan Casline at acasline@aol.com for more information.
Funding to support this Reading Series comes from Hudson Valley Writers Guild and Rootdrinker Institute.
[location post_id="11038″]
#_LOCATIONMAP
#_LOCATIONNAME
#_LOCATIONADDRESS
#_LOCATIONTOWN, #_LOCATIONSTATE #_LOCATIONPOSTCODE


[/location]