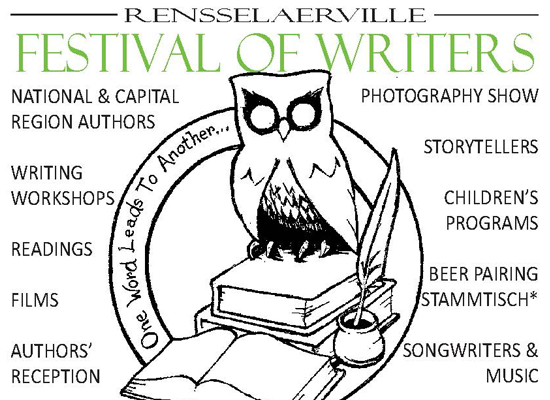 The Festival of Writers kicks off in historic Rensselaerville on Thursday with a lot of poets, writers, and storytellers taking part in the many readings and workshops that are happening throughout the four day event.
One of the events that will be taking place on the last day of the festival, Sunday, August 18, is "This Upstate Life" where local writers will read their own work, poetry, fiction, personal essay, or cross-genre and experimental work specifically rooted in the upstate New York region.
Scheduled to read at this event are Tom Corrado (Middleburgh), Carol Graser (Galway), Anne Decker (Albany), Susan Jefts (Saratoga Springs), Sarah Giragosian (Albany), Howard J. Kogan (Stephentown), Marea Gordett (Cohoes), Marion Menna (Glenmont), John Worth Gordon (Albany), Mary Cuffe Perez (Galway), Dan Wilcox (Albany), and Himanee Gupta-Carlson (Greenfield Center).
The 2013 Festival of Writers is from August 15-18 at various venues in town. Schedule and registration information is available online at festivalofwriters.org. You can pay online by credit card (visa or master card) or in the Library with cash or check.
For more information on this great festival of words, email festival@rensselaervillelibrary.org or call (518) 797-3949. There is also a Facebook page setup at facebook.com/FestivalofWriters.
All proceeds benefit the Rensselaerville Library.