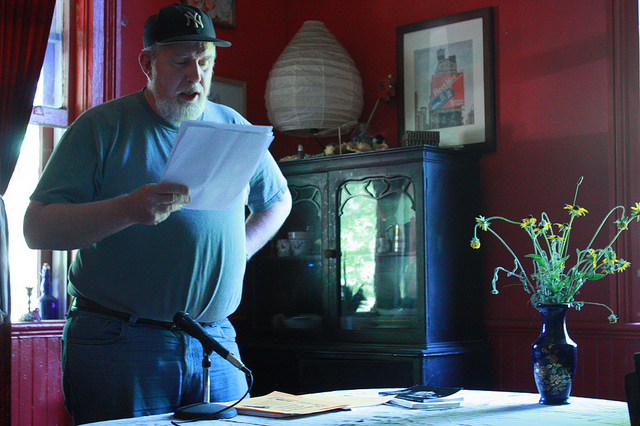 Five local poets, Alan Casline, John Roche, Stephen Lewandowski, Martha Treicher, and Mark "obeedúid~" O'Brien, will be featured at a special open reading at the Civil War Memorial in the Village Park in Avon, NY (map) on Friday, October 19 at 2:00PM.
Here is a little history and information on the program from Alan Casline:
This will be the third year there is poetry reading in front of the Civil War Memorial with cannons at the Village Park in Avon, New York. It started because two poets : John Roche and obeedúid~ (who at the time had not yet met) BOTH wrote and published poems that included the cannons and the Village Park. The odds of that happening, are estimated to be about 13,000,000,000 to one.  In response I wrote a poem that includes the cannons and the Village Park.  My writing my poem didn't change the odds of already increasable impossibility but did make me want to see what would happen to our universe if three or more poems  about cannons and  Avon. New York were actually read there! Great cosmic forces and proponents of rationality conspire to keep the impossible not possible and even though this event was planned for 2010 and 2011 the three poems and poets never all arrived at the appointed spot at the appointed time even though promises were made and transportation was available.  This may be the year .

The invitation to this contemporary (not quite historical but probably if it happens legendary in my own mind) event goes out to Rootdrinker Institute members and friends.  It is a rain or shine event and some of us go on after the Reading to share dinner and recount the exciting and odd occurrences of the day.  All poets are invited to attend and read from their work. If anyone wants to be committed to attend I'll add your name to the souvenir flyer and further publicity.

NOTE: Linking "poets and cannons"  is for the sake of  weird juxtaposition and  absurdity and  not an endorsement of a militant lifestyle.