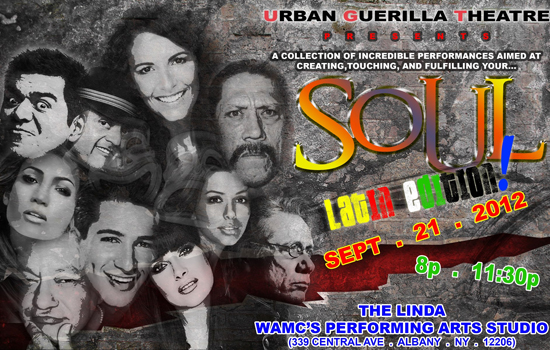 On Friday night, September 21, UGT is bringing soul back to The Linda, but this time with a Latin twist.  This month the artists of Urban Guerilla Theatre are celebrating Latin heritage, music, performance, and of course, soul. And for this event there will be a very special featured performance by none other than Def Poet "La Bruja" Caridad De La Luz.
La Bruja is a poet, writer, actress, recording artist, and activist from the Bronx. In her career she has worked some of the biggest names in entertainment and has been a big part of community and cultural activism nationwide.
La Bruja will be joined on stage with an amazing lineup of poets, musicians, and spoken word artists including Sibie Roxx, Carlos Garcia, Kat SoPoetic, Jess Listentomywordz, Luis "L-Majesty" Pabon, Rudy Cabrera, Johnathan Lajas, Daniela Watson, Carlos Gaston, Melissa Noemi, and more.
This special edition of UGT is starting at 8:00PM. You can purchase your tickets through The Linda's website for  $10 in advance or you can buy them at the door for $15.
Just in case you are not familiar with Urban Guerilla Theatre and what the group is all about:
Urban Guerilla Theatre is a Poetry/Spoken Word/ Performance Group based in Albany,NY. The collective consists of Artists and Actors who do poetry/improv/theatre. The Artists of UGT are dedicated to reviving, redefining, and revolutionizing spoken word. The group employs various styles of poetry, music, spoken word and theatre to address life, love, relationships, social and societal issues. UGT also uses their open mic readings to host events and create an artistic space to house and develop artists and upcoming poets.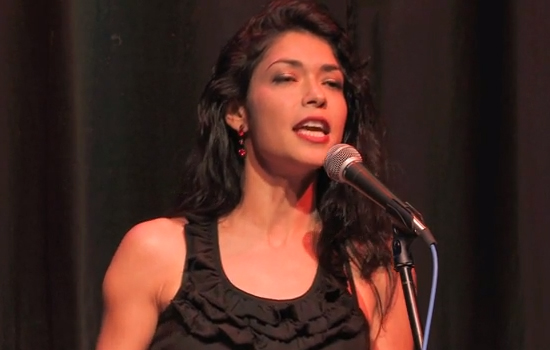 Here is some more detailed information on Caridad De La Luz from her website:
Whether singing on Telemundo, performing on HBO's Def Poetry Jam, or appearing in History Channel docudramas, modern day renaissance woman Caridad De La Luz "La Bruja" refuses to be put in a box.  Her unique creativity and charismatic performances have been sought around the world.  Her humanitarian spirit has never faltered throughout her career, facilitating writing workshops for inner-city youth, while performing internationally and even modeling for Levis in Glamour and Marie Claire.  La Bruja has long been regarded as one of the leading American spoken word poets. With the release of albums such as "Brujalicious" and her musical "Boogie Rican Blvd." she joins the ranks of artists such as Mos Def who infuse acting and music with the power of spoken word.

POET

Since her auspicious spoken-word debut at the famed Nuyorican Poet's Cafe in 1996, La Bruja has appeared on HBO's "Russell Simmons Def Poetry Jam" and performed internationally at countless respected venues, including Joe's Pub at The Joseph Papp Public Theater, The Nuyorican Cafe in Puerto Rico, SOBs, The American Museum of Natural History, El Museo del Barrio, The Bronx Museum of Art and at Miramax's "Celebration of Miguel PiĖero".  Her most famous poems to date are W.T.C. & Lola which were performed on HBO's Def Poetry Jam and Nuyorico which was featured in a Levi's print ad in magazines featured across the globe.

WRITER

La Bruja is the author of the highly successful musical "Boogie Rican Blvd.", which sold out its eight-week run at La Tea Theater, has been produced at The Nuyorican Poet's Café and just ended it's four week run at The Puerto Rican Traveling Theater off-Broadway, July 2009.  NY Times called Caridad "a juggernaut" and raved about the musical in two separate articles during its one month run.  She wrote for mun2's animated comedy series "Lugar Heights", and has written her first screenplay "Famers", a movie that tells the poignant story of love, aspirations, and loss behind the creation of a graffiti memorial wall.  Her poetry is urban, raw and empowering, and is sought by inner-city communities and universities alike.  Most famous for her WTC poem about 9/11, she continues to travel the world performing her spoken word.  Her work has been published in several anthologies including Voices in First Person (Reflections of Latino Identity), We Got Issues (A Feminist Perspective), and Me No Habla with Acento (A Collection of Spanglish Poetry).

ACTOR

La Bruja's numerous acting credits span television, theater, and film. Her TV credits include appearances on HBO Latino, The History Channel, public service spots for AmericansForTheArts.Org, and Spike Lee's commercials for IAM.com, She is the voice of Roxy in mun2's animated comedy "Lugar Heights". La Bruja made her major motion picture debut in 2000 as Cuca in Spike Lee's "Bamboozled", and gave a scene stealing performance as Lucy Negron in the 2004 Sundance-winning feature "Down To The Bone". A seasoned stage actor, La Bruja has performed at the Hip Hop Theater Festival, toured Poland and NYC as a cast member of the musical "Ubu Enchained", and was featured in Pedro Pietri's "El Spanglish Language Sandwich". She has received raves around the world for her performance in her original musical production "Boogie Rican Blvd" and in the Spanish Language Comedy Film "El Vacilon – The Movie" based on New York City's Top Rated FM Radio Morning Show on La Mega-FM.
August 2009, she played the lead in Walk On By, a short film by Lisa Quijano-Wolfinger being featured in the New York International Latino Film Festival.  October 2009, Caridad played Margie in the off-Broadway theatrical production written by Nancy Genova called The Death of a Dream; about the many facets of Domestic Violence and served as a healing tool for many survivors.  See her in Sundance Film Festival 2011's official selection GUN HILL RD.

LATIN/HIP-HOP RECORDING ARTIST

La Bruja has recorded with Fat Joe, Vivian Green, Jadakiss, Don Dinero, The Jungle Brothers, Black Ice, B-Real, Tony Touch, Afrikaa Bambaata, Chingo Bling, Hurricane G, Boy Wonder and The X-ecutioners. La Bruja released her debut album "Brujalicious" in 2005 on De La Luz Records.  It can be found on iTunes.com and heard on myspace.com/labruja.  In 2008, Grammy award-winner Dan Zanes asked Caridad to join forces and they collaborated on two songs for his new album "Nueva York" featuring a music video for the spanglish children's hit "Pollito Chicken" featured on Disney's Playhouse.  2010 La Bruja released her new album "For Witch it Stands" giving her fans a taste of what has been brewing in the Labrynth since Brujalicious, both are available on iTunes.  December 12, 2010, CSI:Miami on CBS featured her collaboration with Rico Pabon, El Huracan from the Urban Legends Soundtrack.

ACTIVIST

A dedicated artist-activist, La Bruja frequently performs at schools, universities, hospitals, and community centers around the country. She helped raise funds for "Stop The Bombs", part of a successful campaign to close the controversial US Navy Base on Vieques Island, and recorded music for the "No More Prisons" album, which promotes awareness of the negative impact of militarism on today's urban youth. La Bruja has been a longtime activist and participant in the fight against AIDS and in the promotion of education and awareness about the disease. Creator of the "How Can I Change The World?" writing workshop for The East Harlem Tutorial Program, she now leads workshops at schools and community development centers nationwide.  In the efforts of encouraging thousands to claim the benefits of art, culture, and self-expression, La Bruja continues to support positive change for the hip-hop generation through organizations such as Voices UnBroken, World Up, and Latinas 4 Life.  After working with inner-city youth for over fourteen years, she has not only seen a growth in self-esteem amongst young people but continues to be inspired and has become a self-proclaimed "Poetician" – one who uses poetry to make positive change for all of mankind.