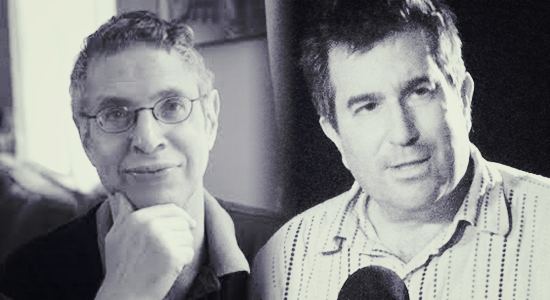 The Bright Hill Literary Center, celebrating their 20th anniversary this year,  continues the Word Thursday series this coming Thursday with featured poets Philip Fried (NYC) and Julian Stannard (England).
Host Bertha Rogers send along the following:
On Thursday, May 10, Word Thursdays will feature NYC Poet Philip Fried and Southampton, England Poet Julian Stannard. They will read from their work after the open mic, which begins at 7 pm, and to which all attending are welcome to read from their work or that of others for up to five minutes. The readings will take place in the Word & Image Gallery at Bright Hill Literary Center, 94 Church St., Treadwell, NY, one block north of Barlow's General Store.

Philip Fried, a poet and little-magazine editor, has published five books of poetry: Mutual Trespasses (1988); Quantum Genesis (1997), Big Men Speaking to Little Men (Salmon, 2006), Cohort (Salmon, 2009), and Early/Late: New and Selected Poems (Salmon, 2011). A.R. Ammons called Quantum Genesis "a major new testament," and Marilyn Hacker said that Big Men Speaking to Little Men "represents much of what I admire in contemporary American poetry." Fried also collaborated with his wife, the fine-art photographer Lynn Saville, on Acquainted with the Night (Rizzoli, 1997), a volume combining her nocturnal photographs with poetry from around the world. And he is the founder and editor of The Manhattan Review, an international journal that for three decades has published the best in Anglophone poetry and translations.

Julian Stannard is a Professor in English and Creative Writing at the University of Winchester (UK). He used to teach at the University of Genoa in Italy and much of his writing has been inspired by the city of Genoa and the Ligurian landscape. His recent collection, The Parrots of Villa Gruber Discover Lapis Lazuli (Salmon, 2011), completes a trilogy of poetic writings which have made Genoa centre stage. His earlier works are Rina's War (Peterloo Poets 2001) and The Red Zone (Peterloo Poets, 2007). He is a Bogliasco Fellow (Italy) and a Hawthornden Fellow (Scotland) and his writings have appeared variously in the Guardian, TLS, Poetry Review, Ambit, Poetry London, Poetry Wales, Poetry Ireland, World Literature Today (USA), the Cold Mountain Review (USA) , Versal (Amsterdam), Etchings (Australia) and Nuova Corrente (Italy). He was awarded the Troubadour Poetry Prize in 2010 (London) and he has read at Poetry Festivals and conducted workshops throughout Europe. His academic publications include Fleur Adcock in Context: From Movement to Martians (Edwin Mellen, 1997) and The Poetic Achievements of Donald Davie and Charles Tomlinson: Expanding Vision, Voice, and Rhythm in Late Twentieth-Century English Poetry (Edwin Mellen, 2010).