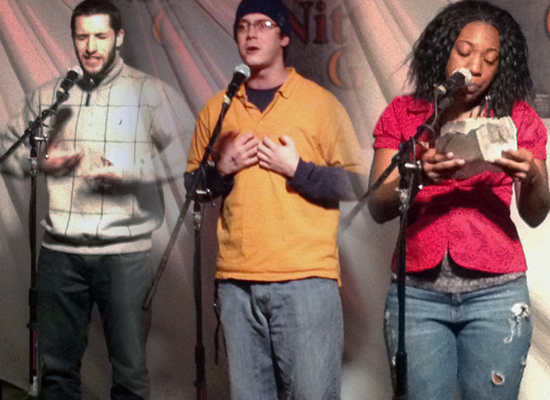 Last night at Valentines, we saw three new slam poets take the stage for the 11th installment of the Nitty Gritty Slam. We also had a surprise sacrificial poet in Thom Francis who made Mojavi mad with his hidden ability to slam.
But before Dain Brammage took the stage as Slam Master, we had an open mic with some great local talent and even more new faces. Dan Wilcox, who came in second place at the last slam decided to participate in the open mic this time around. Jessica Layton, Tasha, Professor Daniel Nester, Laura Baboulis, and D. Alexander Holiday shared their poetry with early February crowd.
When the slam began, we could not have predicted what the outcome with four previous NGS winners in the mix. All of the poets stormed through the first round with commanding scores and some provocative selections (Tenesha) for their poems. In fact, no one scored below 26 points. But it was the new guy, Steven Valentine, who would take the lead with a perfect 30 and never looked back. And when the dust cleared and the final scores were tallied, it was Steven barely squeaking by Kevin Peterson to take first place.
Here is how the evening's scores broke down:
Round One:
Poetic Visionz – 27.7
Shannon Shoemaker – 26.2
Steven Valentine – 30.0
Rita Hamm – 28.2
Kevin Peterson – 29.0
Elizag – 29.4
Tenesha Smith – 28.6
Round Two:
Tenesha Smith – 28.7
Elizag – 24.4
Kevin Peterson – 29.8
Steven Valentine – 29.6
Round Three:
Kevin Peterson – 29.4
Steven Valentine – 29.8
Will Steven be able to defend his title in two weeks when we return to Valentines? Will more new poets enter the fray and present more challenges to the local veterans? We will have to wait until February 21 to find out. Hope to see you there.
[pwaplusphp album="NittyGrittySlam11February72012″]