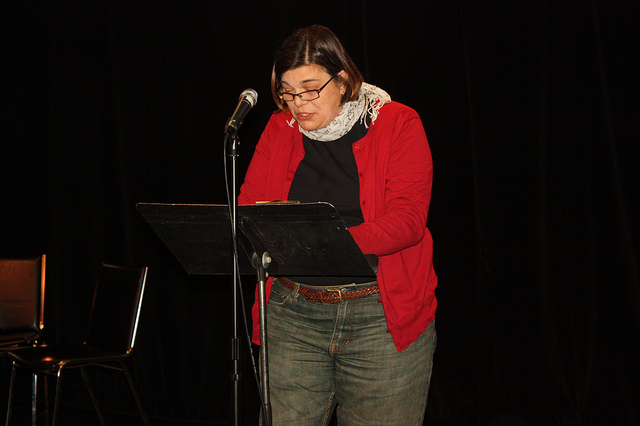 There are a few great poetry events going on in the area this weekend. Starting on Saturday with the monthly Poetry on the Loose reading at 4:00 in Warwick with featured reader Steve Calitri.
Calitri to Read at Poetry on the Loose

Steve Calitri will read his work at the next program in the Poetry on the Loose Reading/Performance Series.  The event will be held at 7 West Street in Warwick at 4:00 p.m. on Saturday, January 7.  Enter by door on right side of building.  Following the feature, others are welcome to read original work.  Admission is free.

A Warwick resident and businessman who has been promoting the arts through his building at 7 West Street, Steve Calitri has been writing poetry off and on since the age of 19.  He is attracted to the art of poetry, he says, because poetry is not a commercial art.  "You may say there is a cottage industry around poetry, but nothing mainstream; poetry is not something that gives quick and easy gratification, like pop music, or candy.  It needs to be eaten very slowly.  A good poem is like a mountain.  It needs to be pondered. You can't just drive by it."

Calitri is a co-founder of the College of Poetry in Warwick. The headline poem for his reading will be "Captain Eternity."

The next Poetry on the Loose reading will be held February 4 and will feature authors appearing in the Wawayanda Review 2, the annual journal of the Northeast Poetry Center.

For further information, contact: William Seaton/ Poetry on the Loose, Inc. at seaton@frontiernet.net or (845) 294-8085.
Later on in the evening the poetry moves to Kingston for the COW series at the BEAhive starting at 7:00 for an "Anything Goes" open mic hosted by our friend Phillip Levine.
COW (Chronogram Open Word) Wide Open Mike
"anything goes" Hosted By Poetry Editor Phillip X. Levine
Poetry/Prose/Performance

Spoken Word Series on the First Saturday, Every Month Continues: Sat, Jan 7th, 7pm w/Wide Open Microphone & Free Drink

COW (Chronogram Open Word): Poetry/Prose/Performance is hosted by Chronogram's poetry editor Phillip Levine, it runs on the first Saturday of every month at 7pm at the BEAhive (314 Wall St).

The series, produced by Chronogram and BEAHIVE, continues on Saturday, January 7th, 7pm with a Wide Open Mike-"anything goes"

COW (Chronogram Open Word) – Featuring: Wide Open Mike ("anything goes") – Saturday, Jan 7th, 7pm

BEAHIVE – 314 Wall St, Kingston, NY
Info: Phillip Levine – (845)246-8565 / pprod@mindspring.com

All shows are held at BEAHIVE in Uptown Kingston (314 Wall St.). Doors open at 7pm; start time is 7:30. Features perform for approximately 20 to 25 mins. each, with open mic before and after. Cover charge is $5; free for BEAHIVE members. Drink included.

Phillip X. Levine is a poet, editor and performer. He is poetry editor for Chronogram and president of the Woodstock Poetry Society & Festival (www.woodstockpoetry.com). From 2001-2008, he hosted a popular weekly reading series at The Colony Cafe, one of the most storied venues for poets and musicians in Woodstock, NY. This OPEN WORD series is an evolution of The Colony series.

Chronogram (www.chronogram.com) is a free monthly magazine that nourishes and supports the creative and cultural life of the Hudson Valley.

BEAHIVE www.beahivebzzz.com is a new kind of collaborative space for work and community. Its ultimate aim is to support a Local Living Economy, one that is locally rooted and human-scale. BEAHIVE opened in Beacon in May 2009 as the first such space in the Hudson Valley and partnered with Chronogram to open a second location in Uptown Kingston in December 2009.
Then on Sunday, to round out the weekend upstate poetry tour, Dan Wilcox and Nancy Klepsch are hosting the Poetry + Prose open mic at the Arts Center in Troy.
Poetry + Prose, an open mic for writers of prose & poetry is this Sunday, Jan. 8 (yes, it's the Second Sunday) at 2PM at the Arts Center of the Capital Region, 265 River St., Troy, NY.  Free!  Your hosts Nancy Klepsch & Dan Wilcox.  Bring poems or short prose works/excerpts, etc.