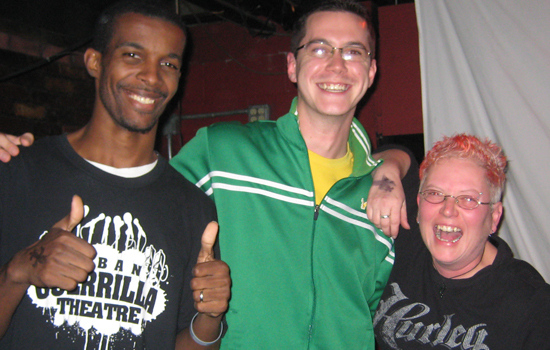 We are live downstairs at Valentines tonight for the fifth installment of the Nitty Gritty Slam presented by Albany Poets, Urban Guerilla Theatre, and Frequency North Reading Series. Here is how the scores worked out for the slam after the short open mic with poets Jessica Layton, Rain Dan, Ed Rinaldi and Bless hosted by Mojavi. The scores this time around were very close and when the smoke cleared the winner was Shannon Shoemaker!
Round One:
L-Majesty – 27.0
Kevin Peterson – 27.3
Poetyc Vyzonz – 27.5
Alex Sherman Cross – 28.5
Shannon Shoemaker – 29.8
Toby – 18.4
Elizag – 26.8
Round Two:
Shannon Shoemaker – 27.7 (Combined 57.5)
Alex – 26.9 (Combined 55.4)
Poetyc Vyzonz – 28.5 (Combined 56.0)
Kevin Peterson – 29.6 (Combined 56.9)
Final Round:
Kevin Peterson – 28.2
Shannon Shoemaker – 28.6
And here are our winners for Nitty Gritty Slam #5:
1st: Shannon Shoemaker  –  2nd: Kevin Peterson –  3rd: Poetyc Vyzonz
For full results of this and previous Nitty Gritty Slams, check out the Results Page. Photos of the event are on the Photos Page.
We will be back at Valentines on Tuesday, November 15 for NGS #6.